World Electronic Sports Games (WESG) 2018-2019 Season kicked off in Malaysia at the end of June. The organizer Alisports announced today that HUYA, the Chinese live streaming platform, to be a strategic partner of WESG. By becoming the exclusive partner among gaming live streaming platforms in mainland China, HUYA will broadcast WESG events for the whole 2018-2019 season.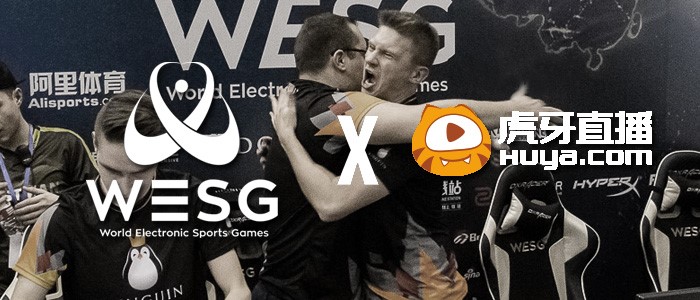 Exclusive Chinese Live Broadcast for Straight Nine Months
Alisports first brought WESG into the spotlight in 2016. It has covered nearly 200 countries and regions. More than 100,000 players have participated in the last two seasons. A total prize pool of 5.5 million U.S. dollars is provided every season. The global broadcast for the previous two seasons transmitted live in Chinese, English, Russian, Portuguese, German, Spanish and so on, for a total of 14 languages.
HUYA is known in China as the leading interactive live streaming platform. It was listed on the New York Stock Exchange shortly before the announcement of partnering with Alisports. Since its establishment in 2012, HUYA has distinguished itself from other gaming live streaming platforms by focusing on content optimization. "HUYA aims to work with the best esports organizers to serve millions of users on its platform and to support the growing enthusiasm for esports.", said Liu Jing, senior vice president of HUYA.
Qualifiers of the WESG 2018-2019 season cover more than 20 provinces in China, which reach almost every city in the country. WESG overseas qualifiers are also unveiling. The overall live broadcast for the 2018-2019 season is estimated to last 9 months.
Famous Streamers Support WESG HUYA Online Qualifier
HUYA has assembled a team of well-known streamers from world champions to influencers in the communities, including Andeluoni, Mengtaiqi, Chun Ge, DOTA2 former national champion LONGDD, CS:GO former world champion QUQU and so on.
Jason Fung, Global eSports Director, from Alisports says, "WESG has received a lot of focus from many live streaming platforms in China because of the event's scale and influence. HUYA is an industry leader in live gaming broadcast and mantains a great reputation with millions of users. We hope our partnership with HUYA will bring WESG to a new level in the world stage."
A deep partnership with HUYA is in the works. HUYA had invested tens of millions RMB in this licensing deal. In addition, a WESG HUYA online qualifier is set up with the prize money of 80,000 RMB. The registration will open in late August and for details please visit: events.wesg.com
WESG partnering with HUYA sends a positive signal that esports is developing on the right track. Revenue of esports events was mainly generated from advertisement and sponsorship before. This time, by allowing streaming platforms to broadcast WESG events, Alisports enables esports to get one step closer to traditional sports and provides high-quality events to the fans.